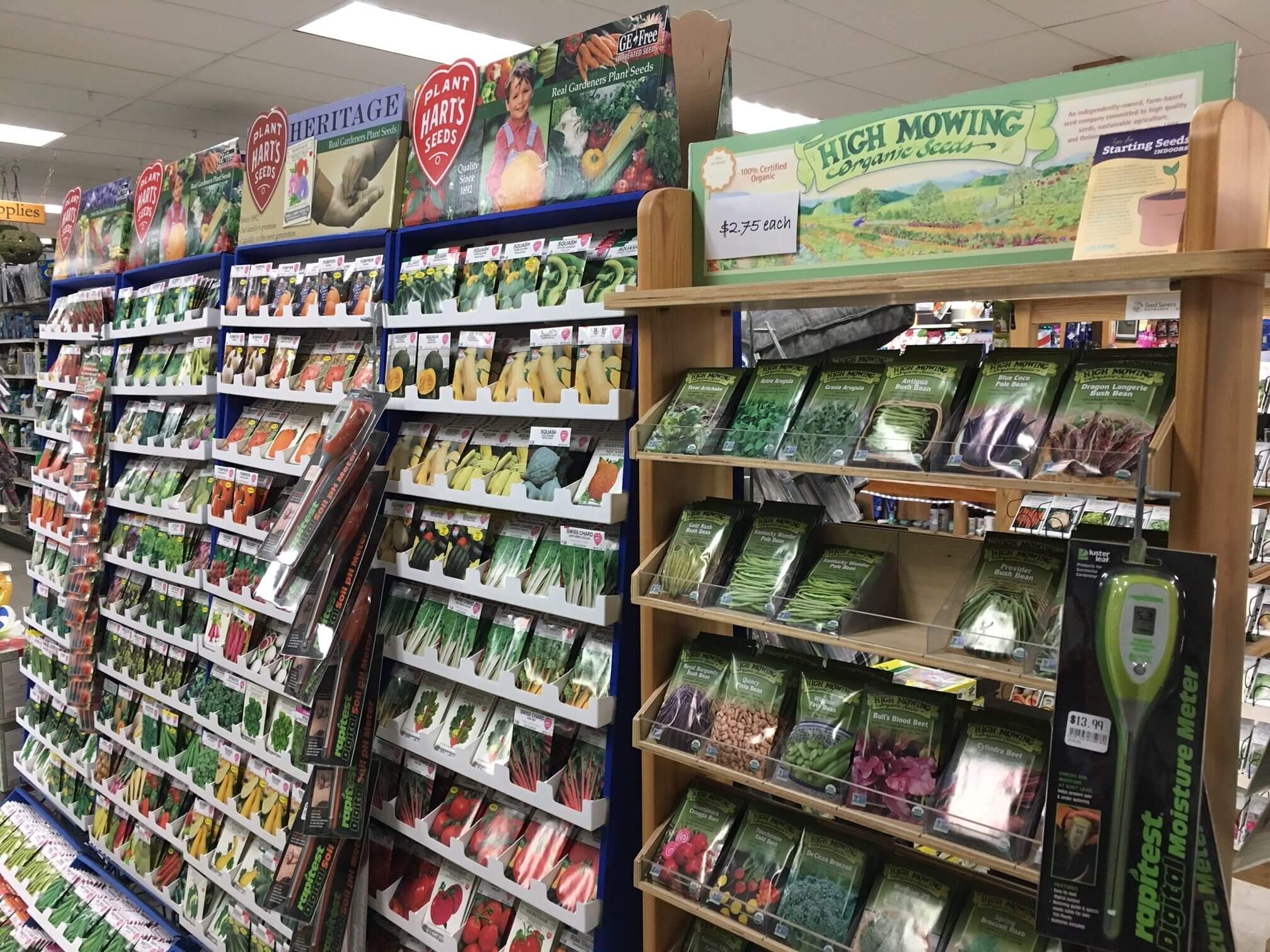 In our Greenhouse you'll find gorgeous blooming early season annuals, including spectacular hanging baskets. Also tomatoes, peppers, cukes and squashes. Cole crops, herbs, lettuces , more annuals and more hangers are out front. As deliveries of edibles come in we are updating our list so you can check it before you make a trip out. Printable list as of 5/18/20
We have fruit trees, blueberry bushes, potted strawberries, raspberries and blackberries in stock… (Elderberries not available) Seed potatoes, onion sets and shallots, including local shallots from Wendell. Trees, shrubs and perennials are coming in weekly! Roses and Peonies have arrived and we still have seeds and packages of bulbs to plant for summer flowers.
2020 Fruit Tree and Berry Selections
IMPORTANT INFORMATION: Due to the COVID-19 Pandemic we strongly encourage you to do your research regarding fruit trees, at home, before you come to the CoOp to make a purchase. There are endless resources for planting instructions, pollinators and variety characteristics online. For the safety of our community, Social Distance and In-Store (Nursery included) Customer Limit Guidelines and Mandatory Face Coverings are being followed.
Apple Trees: Braeburn, Cortland, Empire, Fuji, Gala, Liberty, Macoun, McIntosh, Pink Lady. Click here for apple descriptions
Click here for printable Pollinator List
Peach: Early Elberta, Elberta, Frost, Red Haven, Vivid. Click here for peach descriptions.
Link to printable Pollinator List:
Here's a link to information for the rest of the fruit listed on this page.
Nectarine: Sunglow
Apricot: Tilton
Pear: Bartlett, Bosc, D'Anjou, Lucious, Moonglo, Seckle, Summercrisp
Sweet Cherry: Lambert, Lapins, Van
Sour Cherry: Montmorency, Northstar
Plum: Burbank, Green Sage, Santa Rosa, Shiro, Yellow Egg
Prune Plum: Stanley
4-in-1 Apple, 4-in-1 Cherry, 4-in-1 Pear, 4-in-1 Plum
Blueberry: Jersey, Elizabeth, Elliot, Darrow, Bluecrop, Sweetheart, Bluejay, Rubel, Nelson, Sierra, Legacy, Cara's Choice. Click here for Blueberry variety information.
Raspberry: Heritage, Canby Red, Indian Summer
Blackberry: Chester, Darrow
Nourse Farm Strawberries are sold out
Planting instructions and lots of information for First Timers! Click here.
We also carry a nice selection of "How To" books, seed starting equipment, potting soils, fertilizers and tools.
Some of our nursery suppliers:
For the Lawn
We carry Step Programs, patching, insect and pest control, mowing, trimming, fertilizing, raking tools and more. Whatever products you need for a healthy lawn, you'll find them at the CoOp. And you can always ask us questions! If you're looking for some good online information, check out "Know How" at www.agway.com
Here are some of our vendors if you want to check them out!